ROSE RAGE
$135.00
MAGNIFICENCE THROUGH CHAOS: flamboyant Damascena Rose allied to Raspberry pulp, raging against the darkness of Patchouli, Cumin and Incense. A trip in Wonderland with a dramatic Eau de Parfum created by Jean Claude Delville.
0.5 fl.oz/ 15 ml
A dramatic, almost operatic joust between the Red and the Black: The gorgeous and colorful Queen of flowers, her majesty the Damascena Rose, is in dispute with the solemn and spiritual Frankincense, resulting in a surprising display of harmony through contrasts. The rose befriends the playful natural Raspberry ketone, while the incense finds strengths in dark and powerful allies like Cumin and Patchouli. The secret of this blend is the unusual amount of natural rose that we use: there is an equivalent of 150 rose blossoms in each bottle of 15ml of Rose Rage (*). Also, we wanted to create a rose fragrance that both men and women could wear: the opulent femininity of the Turkish rose is somehow neutralized by the virile spicy,woody and balsamic backbone of this enchanting blend.
Genderless Eau de Parfum
Creation date: 2019
0.5 fl.oz/ 15 ml glass bottle with matte black pump spray
Packaged in a recycled foam block (yoga block type) that allows to be shipped with no supplementary protection. We take sustainability very seriously. Our approach is to minimize packaging altogether.
Dimensions: 4 x 6 x 2.5 in
Shipping by ground by USPS in all U.S 48 contiguous States – average delivery in 48 hours (shipping alcoholic perfume by air is a complicated and costly affair). All other destinations are a case by case arbitration between Fedex, UPS, USPS Global. On average it takes a week to complete international shipments but with recent events we have witnessed extended lead times.
(*) It takes an extravagant 4 tons of rose petals to make one kilogram of oil. That is 600,000 blossoms that need to be harvested by hand, early in the morning before they release their aroma in the air…
ABOUT THE SOCIETY OF SCENT
We are a collective of disruptive thinkers and shakers with a solid expertise in Scent and Fragrance. Our team and network is composed of Perfumers, Brand Builders and Creative visionaries. We love what we create, we are engaged in the quest for a better living, we imagine and share our vision with the world. We are a Perfume House and not just a brand: our scents are created in our Lab by Jean Claude Delville, and a couple of guest perfumers. We think of ourselves as part of an "Alternative Perfumery" movement. The Society of Scent follows the principle that defines a true perfume house: Scent Creation and Creative Direction stays in-house. We are obsessed with quality, differentiation and emotional connections. We are committed to creative excellence and celebrate the extraordinary power of scents. We are initiating our own Scent Movement where respect for the Consumer and respect for the Product are the key drivers of everything we do !
ABOUT SO SCENT°
Formulated by Nose Jean Claude Delville and featured guest Perfumers, SO SCENT° is our Cult Brand, created in our proprietary laboratory in the South Bronx. Each fragrance is imagined with a non gender specific aesthetic and is designed to trigger a flow of sensory emotions for all. The artistic and crafted process combined with the highest quality of ingredients and the time spent on necessary maturation and maceration are bound to deliver the ultimate Slow Scent experience.
ABOUT JEAN CLAUDE DELVILLE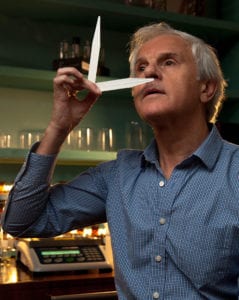 Jean Claude began studying perfumery at the age of 17. He is living in Manhattan where he enjoys walking and exploring the always evolving New York urban landscape and sometimes unexplored gardens. He is a marathoner who enjoys running for the physical and meditative state of mind and a way to pulse imagination and creativity. He has worked for international major groups such as Quest, Creations Aromatiques, IFF, Firmenich, Symrise and more recently for Drom. Jean Claude is the creator of acclaimed and timeless fragrances for Designers and major Fashion Houses such as Jean Couturier, Gres, Givenchy, Kenzo, Marc Jacobs, Jo Malone,  and Vera Wang to name a few. His creation Clinique Happy (1998) entered the Fragrance Foundation Hall of Fame in 2014. In  2017, Jean Claude Delville co-founded The Society of Scent, an innovative digital platform dedicated to Scent Culture, with its own Laboratory located in the South Bronx. Here is what he had to say about himself in a recent conversation:
"Combining colors, music notes, taking pictures of flower arrangements were a simple passion and I knew that I could have spent long hours playing with any of these elements. As a teenager, life caught me by surprise and gave me a chance to become a perfumer, a rare job, fascinating, different, full of joy and tears. I was born in Paris France but very early, traveling, exploring and discovering new sensations were like an addiction. After many years on the road I realized that my heart and soul would always be away from my roots and after experiencing America I realized that New York City was the place where I belonged and  felt free to create. When life is inspiring me to create a perfume, I escape, I transcend, I forget the world and disappear into my research. It is a very particular experience. I have been called a French revolutionary and I love it, if that's what it takes to capture a new emotion in a bottle , tell a new story, a new melody. I am a lucky man, I love what I do and I want to continue to design very special fragrances."
Some of his creations include: