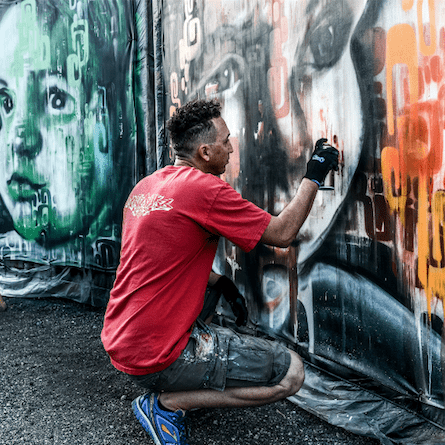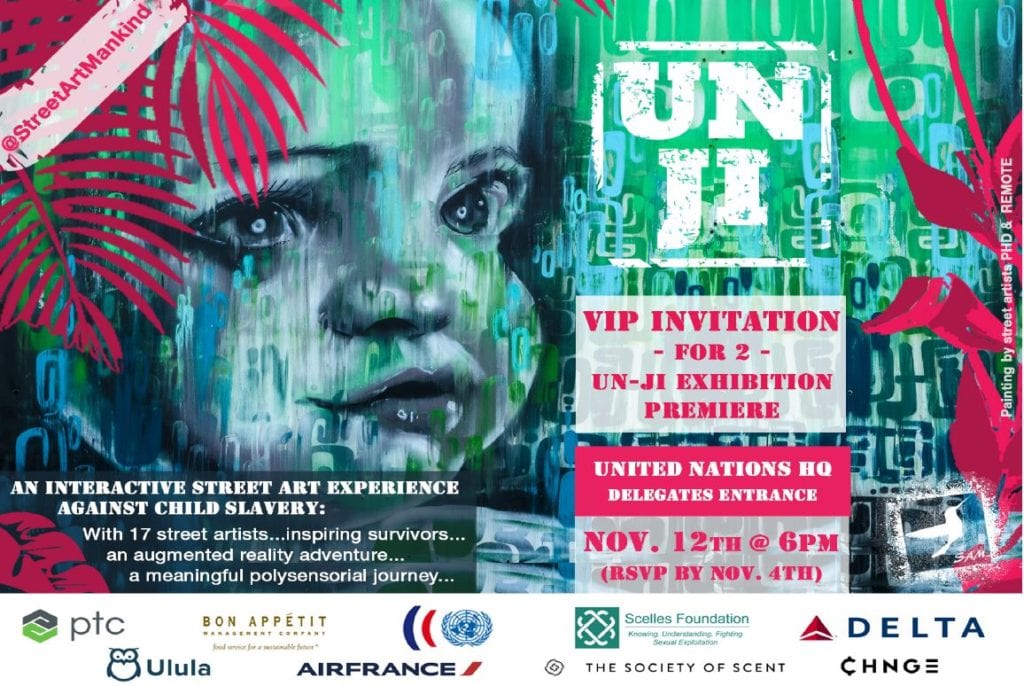 "Welcome to the jungle For 152 Million Children!" An exhibition about child slavery organized by Street Art For Mankind and under the High Patronage of the Permanent Mission of France at The United Nations. This multi-sensory exhibition, conceived like an "olfactory role-playing game", confronts visitors with the life of one of 152 MILLION CHILD LABORERS from this jungle we call the World! Welcome to "UN- JI", the code name for this meaningful exhibit, which purpose is to awake you to realize how child slavery, child trafficking and child abuse- including sexual abuse- are prevalent everywhere and in proportions that you would never suspect. Face this reality with your heart, eyes and nose; explore the dark life of a kid through visual, cultural and scented clues; discover 30 street art paintings made by 17 prominent street artists from all around the world. Inspired by Gandhi's "Be the change you want to see in the world", this project is produced by Street Art For Mankind, a non-for-profit organization founded by Audrey and Thibault Decker. Their mission is to raise awareness of child slavery horrors worldwide, this through Street Art partnerships, events and exhibitions.
When we met Audrey and Thibault at The Lab, we knew right away that we would support their initiative. With our Nose
Jean Claude Delville
, they designed a series of olfactory experiences bound to enhance the narrative of the exhibit: Find your path through this Jungle, using scented clues that represent the local culture or trade of each country involved. Also get a whiff of the harsh or disgusting odors almost ever present in the working environments where these children are slaved and see if you can identify those industries.

The Society of Scent is a community and whenever we can, we use our initials (SOS) as a platform for giving back. From the
olfactory workshop we've organized for the kids
of the South Bronx, to participating in meaningful exhibits like UN-JI, we mean to make scents that make sense.
The UN-JI exhibit is open to the public from November 12th to November 25th:
United Nations Headquarters
New York, NY 10017